Life Skills Training
Self Determination and Psycho-Social skills
Life Skills Training
It is of utmost importance for any individual. At Diya we follow the person centered life skill training model tailored to work with the strengths of each adult to gain self dependence in: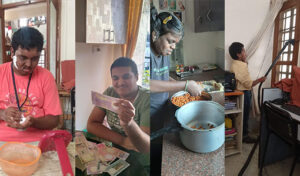 Activities of Daily Living under Personal Management; Household Management; Financial Management is given as per individual needs and strengths;
Commuting and Transportation: The importance of waking up on time and completing all tasks necessary to take transportation to reach workplace on time;
Personal Safety: The importance of understanding safety with regard to all aspects of self, transportation, equipment. Self Advocacy;
Self Determination and Psycho-Social skills
Self Determination and Psycho-Social Skills – prerequisites for getting work ready - Training is given on Self-awareness, understanding strengths, being proud of skills learned and achieved, being self-motivated and the ability to give praise and accept criticism. Therapies like Art therapy, Rehabilitation Counseling, Physiotherapy are also part of the services offered to enhance and develop personal likes and strengths.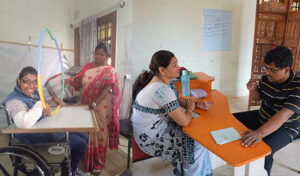 Soft skills
Domain Skills/ Job skills
Internships
Stories of work ready students
Soft skills
Soft Skills Training – Students understand the importance of punctuality, regularity, following instructions, listening skills and implementation skills;

Domain Skills/ Job skills
Job Skills Training in (Retail/ Housekeeping/ Hospitality/ Office Assistant/ Packaging & Manufacturing): Students understand and master the proper techniques of tasks in each of these areas and the importance of looking after and maintaining equipment;

Internships
A person with the inclination and the skills to work independently needs to meet employer expectations of quality and technique - the only way to do this is through 'hands on' training from employers in the Community.
After three years of training on Life skills and Employability skills, adults who are 'work-ready' and eager to try their wings at fulfilling their dreams to get a job and earn go through a process of 'on-site' exposure and internship training before getting placed into successful employment. Students are sent on Exposure Visits, Internships for 'on-the-job' Skills Training, Apprenticeships.
These are designed to expose the students to the World of Work and to get a sense of what employer expectations are out there in the real world. Parents understand the challenges and learn what solutions can be put in place to make it a successful placement.

Stories of work ready students
24 year old Mohan is one of our most promising students for employment. He is a friendly and social person and gets along with his peers and trainers very well. He is good at following instructions and displays good communication skills in his mother tongue, Kannada.
In the production unit, he is currently being trained on various production processes like making paper bowls, packing, lifting and carrying etc. He is a good assistant and is currently being trained for employment on housekeeping and gardening skills and is being coached on job readiness and how to tackle an interview.
Mohan loves coming to Diya and has displayed a lot of responsibility after coming to Diya.
We have seen an increase in his self esteem and self confidence. This is a big turnaround from the Mohan who entered the Diya training program in June 2017. Someone who would refuse to stay and work in any place and loved walking out and taking buses and travelling from place to place which was a source of great concern to his single mother. She is very happy with Mohan's stability and sense of responsibility.
Prasanna is enrolled in the Employability Training Program. His Trainer, Shirley Metline works on skills for self dependence like personal care, health and hygiene, managing finances, budgeting for daily needs, helping his family with household chores such as cleaning and cooking. He is also being given sessions on work readiness skills which includes understanding responsibilities, maintaining schedules and targets, the need for healthy interpersonal interactions, as well as the importance of punctuality and attendance. The journey has not been easy. But we continue to instill in him the courage to go on. Prasanna hopes to find a job in housekeeping since that is where his interests and strengths lie. We at Diya hope that when the situation with the pandemic changes for the better, Prasanna will find a suitable job in the community, helping him earn a living and contribute to the needs of his family.
Mark is a 37-year-old hopeful linguist and can read, write and speak English, Tamil, Kannada and Bengali. One will be hard-pressed to find another person as meticulous, organised, disciplined and committed to his work as Mark is. He is polite with engaging communication skills and excellent self-grooming and table manners. Mark has the coveted ability to learn different skills and tasks with minimal guidance through visual learning. Independent in all his daily living activities, he is a great support to his family when performing daily chores such as washing dishes, watering plants, drying and ironing clothes, etc. Mark takes great pleasure in his baking skills and enjoys mixing batter for cakes, making sandwiches and salads and putting together a simple meal for himself.
Since joining Diya's training program in 2017, Mark interned at Diya Innovations in the Chocolate Unit. He also underwent the Employability Training Program with Enable India and Dell EMC through which he secured a one month internship opportunity in ANZ. Mark is looking at a job in the Hospitality Sector and Diya has every confidence that he will excel at the job of his dreams!