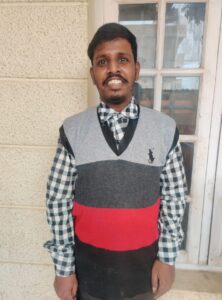 Sam joined Diya foundation in the year 2014. His family consists of his Mother, Father, and younger sister. He is a person with an Intellectual Disability. After joining Diya, he has learned how to work well in teams and participates in creative activities at Diya Innovation. He has developed his communication skills and has also built his self-esteem and confidence. He excels at cooking too! Sam can complete any task given to him. He is an extremely responsible individual. Cycling and riding a bike are some of his favorite things to do.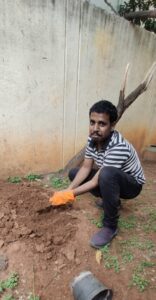 Due to the pandemic, he lost training on physical work and hence became restless. When he was placed under Employability training under Danita, a Person-centered trainer he was involved in physical work and now he is happier and much more active.
Sanjay, Sam's trainer, worked with him on improving his daily living skills by training him on cooking, household management, self-care, and more. He can now communicate his thoughts better. He finishes all the work that is assigned to him with great quality. We believe he is becoming more comfortable with communicating and getting acquainted with people.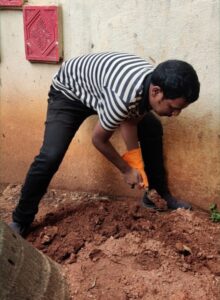 He is also getting physically strong. This would help him go for field exposures or internships, with the ultimate goal of getting suitable employment. Sam has improved in personal grooming and standing postures. He is also improving in building social relationships. He is marching towards a brighter future with the support of his family as well as the Diya Foundation.